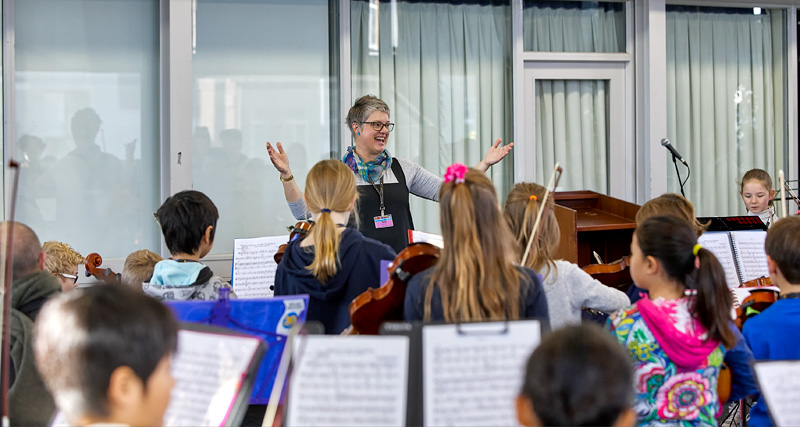 Suzuki teachers are people who are passionate about music and believe that every child has the ability to play a musical instrument. They range from under-graduates to highly experienced teachers, many of whom are professional musicians.
Why become a Suzuki teacher?
Being a Suzuki teacher is an extremely rewarding profession where you will work with truly committed parents who enjoy learning music with their children.
Benefits of becoming a Suzuki teacher include:
an internationally recognised qualification
a professional structure for studio teacher
a huge support network for teachers, both locally and overseas
the opportunity to develop and explore teaching techniques through an established repertoire
regular professional development activities to keep you abreast of best practice in music and teaching
regular access to the best Australian and international teachers and performers through conferences, masterclasses and workshops
a multitude of activities for you and your students including concerts, ensembles, masterclasses, holiday schools and Suzuki Graduation.
How do you become a Suzuki teacher?
Teachers must undergo specialised training to teach the Suzuki Method. The Suzuki Association in each state or country provides part-time courses of teacher training in the various instruments. Applicants are chosen by audition and interview.
Once accredited, teachers are required to maintain financial membership of their local Suzuki Association and expected to participate annually in professional development workshops to ensure their professional growth and maintain their teacher status.
In Australia, State Suzuki Associations are one of the few bodies outside universities providing fully structured courses in instrumental teaching. These part-time courses are provided at three levels, Primary, Intermediate and Advanced. Only Suzuki Associations offer training in Suzuki Method.
All trainees must undertake the Primary Accreditation Course, regardless of prior teaching experience. Instruction is provided by qualified Suzuki Teacher Trainers.
Victorian Suzuki training courses have been accredited by the Victorian Music Teachers' Association (from Primary Level onwards), the Institute of Music Teachers (for Advanced Level). 
The Primary Accreditation Course is the only course of its type that can also contribute towards a Master of Music (Performance Teaching) from the University of Melbourne – as an elective for credit towards two semesters. 
In Victoria, training is offered in the following instruments: Piano, Violin, Viola, Cello, Flute, Guitar, Voice, and Suzuki Baby and Toddler Music. Other instruments such as Double Bass, Organ and Recorder are offered in conjunction with Teacher Trainers outside Victoria.
If you're interested in learning more about Suzuki teaching or about how to apply to join the next Suzuki Teacher Training Course, you can:
Download the Current Course Information and application requirements below

Contact us to ask any additional questions. Prospective Suzuki Voice applicants should also refer to the International Suzuki Voice website for more information.

Complete the Primary Course Application form and submit it to the Suzuki Music office with application fee by the deadline.

Teacher trainers will be notified of applications after the closing date and the interview process will commence
We'd love to talk with you!
Suzuki Teacher Training Course
Want to know more about our Suzuki Teacher training course? Download our resources here.
For more information:
Email 

[email protected]

 or phone 9830 0433.

For further enquiries regarding subsequent accreditation levels or Suzuki Early Childhood Education Contact Events Coordinator , Suzuki Music
Why you will love
Suzuki Music